To All Olympia Gymnastics Recreational Members!
Thank You for all your messages and concerns. We respect your decisions based on what you feel is the best for your family. Our priority is the health and safety of our Olympia clients.
This communication is to provide an update regarding Recreational Programming due to COViD-19/Coronavirus.
At this time, the SPRING SESSION originally scheduled to start March 23rd is postponed until further notice. Please note this is subject to change and we will keep you informed of the latest information as it becomes available.
For those who voluntarily decided to not attend the March Break Camp and the Spring Session, your fees will be credited to your account and can be used for any future registration in our recreational programs.
Given the high volume of voluntary cancellations and refund requests for March Break Camp & Spring Session, refund requests and cancellations will be temporarily suspended, from the end of business on Friday March 13th until further notice.
We thank you for your ongoing patience during this challenging time.
Team Olympia
Our Gym
For the past 15 years, Olympia has proven its enduring commitment and dedication to the Kanata community by offering a large variety of fitness and physical well-being programs. Long time established (2005), largely expanded (2017) and newly renovated (2019).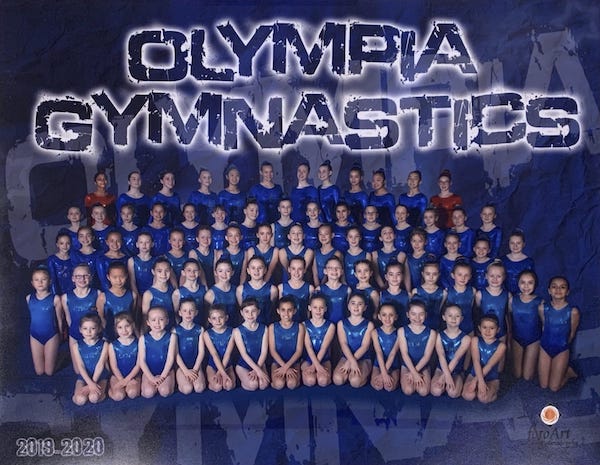 Our Programs
We offer recreational gymnastics for all ages, competitive artistic gymnastics, competitive acro gymnastics,
recreational tumbling, Ninja Zone, gymnastics camps, birthday parties, playtime and drop-in time.
Vision: Our goal is to improve your child's performance but to also provide a solid foundation for all their athletic pursuits throughout their life.
Mission: We work in an environment of honesty, trust and respect with our clients, employees and community. Your child will build self-confidence and co-ordination as they grow and develop their personalities.
Team Olympia: Our Coaches
Our award-winning coaching team has decades of experience in all forms of recreational and competitive gymnastics.