GYM UPDATES
The 2021 Winter Session initially planned to start and run Jan 5th – Mar 14th has been postponed to start on Feb 16th – April 25th. The final dates may alter based on the ongoing new provincial COVID-19 regulations.
This communication is to provide an update regarding Recreational and Competitive Programming due to COVID-19/Coronavirus.
The following participants and athletes have been affected by the latest events, as spring training, classes, camps and parties have been postponed:
Recreational all year members September – June
Recreational spring members March – June
Pre-competitive WAG – July – May
Competitive WAG-ACRO – June – May
Camps and parties – March, April, May
Under Stage 1 of reopening, registered competitive athletes were allowed to restart training. Under Stage 2, the province allowed the 2020 Summer Camp to take place. Under Stage 3, gyms were allowed to open at this point – 5o max capacity in the gym!
Customers who have pre-paid for programs will have the funds credited towards similar services that can be rebooked. The credits policy will stay in effect until the end of the 2022 season.
A credit is eligible to be claimed only ONCE. Once the program has started, that program must be attended and cannot be deferred to another season.
No refunds will be issued.
We thank you for your ongoing patience during this challenging time.
Team Olympia

Our Gym
For the past 15 years, Olympia has proven its enduring commitment and dedication to the Kanata community by offering a large variety of fitness and physical well-being programs. Long time established (2005) and newly relocated (September 2020, same building).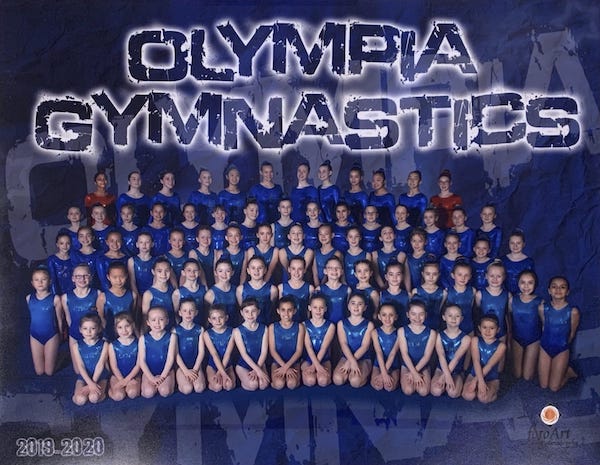 Our Programs
We offer recreational gymnastics for all ages, competitive artistic gymnastics, competitive acro gymnastics,
recreational tumbling, Ninja Zone, gymnastics camps, birthday parties, playtime and drop-in time.
Vision: Our goal is to improve your child's performance but to also provide a solid foundation for all their athletic pursuits throughout their life.
Mission: We work in an environment of honesty, trust and respect with our clients, employees and community. Your child will build self-confidence and co-ordination as they grow and develop their personalities.
Team Olympia: Our Coaches
Our award-winning coaching team has decades of experience in all forms of recreational and competitive gymnastics.